Philadelphia is a city of firsts, the nation's first capital, library, hospital, and zoo were built in the city. Exploring here means learning more about the city's innovative history, and there's a lot to see.
Pennsylvania's largest city thrives with a vibrant cultural scene, including nightlife. After a long day of playing tourist, you'll want to find a unique place to relax that fits your vibe. We checked out these Philly nightclubs just in case you were looking to get a little social.
---
NOTO
1209 Vine Street Philadelphia, PA 19107
215-575-5941
Visit Website
Find NOTO on the edge of the Callowhill neighborhood, also referred to as the city's "Loft District." The nightclub has a dark motif with black leather booths throughout the multi-level space. Visit the venue for a high-end evening that is also high-energy. Just be prepared to share the dance floor with lots of other guests at this popular venue.
---
Trestle Inn
339 N 11th Street Philadelphia PA 19107
267-239-0290
Visit Website
Another option in the Callowhill area provides a blast from the past with music from the 60s and 70s. The club famously hires Go Go dancers to dazzle clubgoers. Whiskey is the bar's specialty, and I recommend trying their Classic Whiskey Sour to sample the best of what Trestle offers.
---
Reserve Lounge Philadelphia
724 Arch Street, Philadelphia, PA 19106
267-291-4103
Visit Website
Reserve Lounge's prime location, near the City Center and across from the African American Museum, brings many folks to the club. Another draw is the state-of-the-art sound system, but for me, the best part was the cocktail menu. Sweet creations like Vanilla Bliss and Moscato Pink were lovely treats after a day of touring Philly.
---
Brasil's Nightclub
112 Chestnut Street Philadelphia, PA 19106
609-713-6944
Visit Website
In the heart of Old City, famous for its Colonial-era sites, Brasil's Nightclub provides an excellent spot to practice your salsa. Head to the Latin club's upstairs dance floor to show off your moves or get a lesson. I appreciated the warm red accents in the building, making it better lit than other venues and the space feel energetic and welcoming.
---
LMNO
1749 N Front Street Philadelphia, PA 19122
215-770-7001
Visit Website
Head to trendy Fishtown for the best of the city's up-and-coming cuisine and arts! LMNO offers a more relaxed space than other Philadelphia nightclubs, with features like a book store and art gallery rather than a dance floor. The lounge doubles as a restaurant serving fresh Mexican dishes with many seafood options!
---
Concourse Dance Bar
1635 Market Street Philadelphia, PA 19103
267-534-4128
Visit Website
This dance club boasts a youthful vibe in the Center City West area. With half a dozen colleges and universities within a couple of blocks, expect lots of people ready to party at this venue. The decor here is flashy, with many social media-worthy photo opportunities, including a ball pit, murals, and their art-adorned ice bar.
---
Saint Lazarus
102 W Girard Ave Philadelphia, PA 19123
267-978-4510
Visit Website
An eclectic mix of over-the-top art covers nearly every inch of this bar, creating a unique atmosphere for hanging out. Sample candy-inspired cocktails or order something Southern from the menu. Saint Lazarus has a little of everything, including dancing and even a comedy night! You can check out this bar in the Northern Liberties.
---
Silk City Diner
435 Spring Garden Street Philadelphia, PA 19123
215-592-8838
Visit Website
Dine and dance at this old-school diner in the heart of the Northern Liberties neighborhood. The venue serves classic diner food with a few updates while DJs spin or performers play live music. One of the best features, or at least my favorite, has to be the stunning garden with artful decorations and live plants.
---
Stratus Lounge
433 Chestnut Street Philadelphia, PA 19106
215-925-2889
Visit Website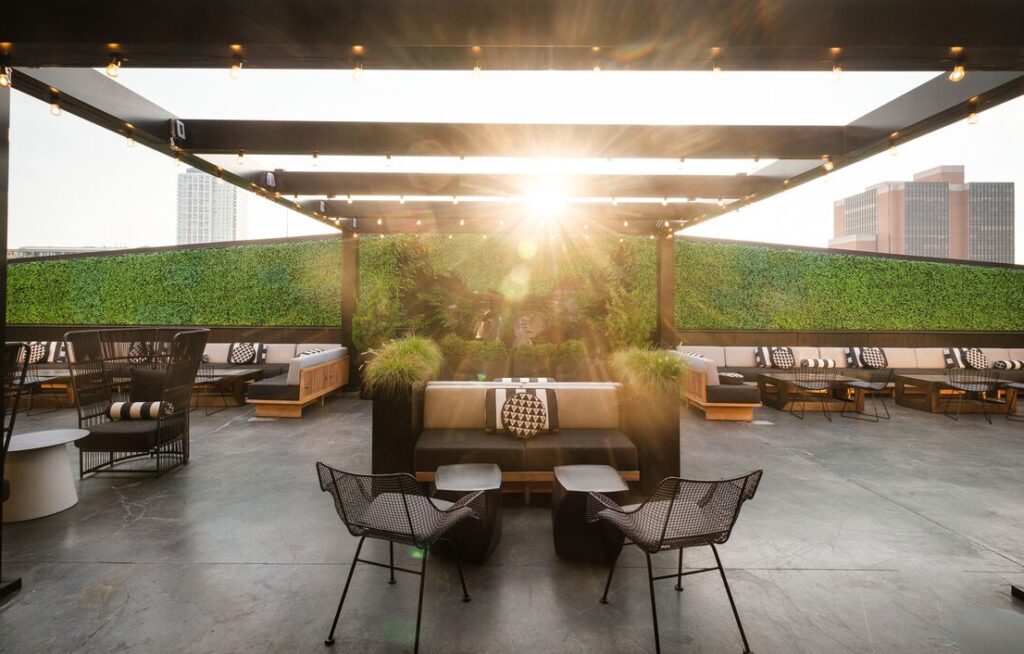 Across Independence Mall from the historic Liberty Bell, Stratus provides a rooftop venue with luxurious features. Stop here for gourmet eats and carefully crafted cocktails. I suggest this spot for those looking for a high-end evening. Remember to dress for the occasion since the lounge upholds a dress code for guests.
---
The 700
700 N Second Street Philadelphia, PA 19123
215-413-3181
Visit Website
A one-of-a-kind sports bar in Northern Liberties, The 700 brings soccer fans together to watch games. The multi-level bar's decor reminded me of my grandma's house, decorated with mirrors and old pictures. The living room aesthetic is relaxing as it is cool, making it the perfect venue for everything from comedy to karaoke.
---
The Barbary
951 Frankford Ave Philadelphia, PA 19125
215-634-7400
Visit Website
Another Fishtown favorite, The Barbary, is best described as a divey nightclub. If you love dark venues where you can let loose, this is the spot for you. DJs provide the music in this club, which is often packed, especially on themed nights when customers are encouraged to dress up.
The Dolphin Tavern
1539 S Broad Street Philadelphia, PA 19147
215-278-7950
Visit Website
Find The Dolphin Tavern on the edge of the Passyunk Square neighborhood for a simple place to party with throwback vibes. The spot isn't flashy but offers tons of entertainment. They curate events from goth nights to remixed Abba evenings. Dress as you like at this relaxed club, though black attire seems to be most people's preference.
---
Tierra Nightclub
4535 N Fifth Street Philadelphia, PA 19140
215-324-6086
Visit Website
Another of Philadelphia's Latin hotspots, Tierra Nightclub in the Hunting Park neighborhood, features a large dance floor and a roped-off VIP section if you want to go all out. Expect Top 40 music here, along with Latin beats. Dressing up seemed to be the norm here, with an emphasis on sex appeal rather than simply high-end fashions.
---
U-Bahn
1320 Chestnut Street Philadelphia, PA 19107
215-800-1079
Visit Website
The hip Midtown village is home to U-Bahn, a concept bar inspired by the Berlin subway. The subterranean club serves local brews alongside German bites and bar snacks. For a more relaxed vibe, visit on a weeknight. DJs on Fridays and Saturdays draw crowds with their retro tunes, so the bar charges a cover fee.
---
Reef Lounge
605 S Third Street Philadelphia, PA 19147
1215-629-0102
Visit Website
Reef Lounge provides a gathering place for those who love spending a night out relaxing and eating. This establishment in Queen Village serves traditional Caribbean favorites with some modern twists. From stewed oxtail to curry shrimp, the menu has some delicious options! Blue dominates the color palate here, creating a peaceful beachy ambiance.
---
Time
1315 Sansom Street Philadelphia, PA 19107
215-985-4800
Visit Website
Back in Midtown Village, you'll find another whiskey bar that doubles as a taproom. If an extensive selection of spirits and brews doesn't wow you, the entertainment might. Watch live music in the dining room while you enjoy American fare, or head upstairs to listen to DJs spin in a Parisian-style nightclub.
---
Cuba Libre
10 S Second Street Philadelphia, PA 19106
215-627-0666
Visit Website
Come for dinner in Philly's Old City and stay for dancing at this versatile nightlife spot. Cuba Libre's aesthetic emulates the streets of Havana with the bright colors of the Caribbean. Chef Guillermo Pernot curates the tropical-inspired menu that I suggest coming early to try, but if you prefer, you can go just to dance to high-energy Latin music later.
---
Down Nightclub
262 S 15th Street Philadelphia, PA 19102
215-732-1681
Visit Website
Down provides a contemporary club experience that reminded me of spending time in Vegas. It has flashy lights, a dark dance floor, and two bars to service the area. Numerous DJs work in the club, playing a mix of genres. Down also operates these clubs in several cities, so you can check one out before heading to Philadelphia.
---
Howl at the Moon
258 S 15th Street Philadelphia, PA 19102
267-519-2189
Visit Website
For a different vibe at Down, head to the venue's Howl at the Moon live music shows. Tunes range from local performers to curated 90s set lists. If you can, I suggest heading to this hotspot during their First Friday events, where you can expect drink specials and additions to the menu.
---
Infusion Lounge
16 S Second Street Philadelphia, PA 19106
267-908-4009
Visit Website
Infusion Lounge offers another example of Philadelphia nightclub with an extensive whiskey selection. The Glided Age vibe lends a sense of luxury with a laidback vibe. Expect music and themed events at the lounge. Bear in mind that this is also a smoking lounge. Infusion also offers fine cigars and hookah at this venue.
---
Morgan's Pier
221 N Christopher Columbus Blvd Philadelphia, PA 19106
215-279-7134
Visit Website
Party in the shadow of the Benjamin Franklin Bridge at Morgan's Pier. The riverside venue only opens during the summer and closes during inclement weather, so remember to check the forecast before you make plans. Morgan's serves bar favorites and refreshing cocktails. You can bring the family here, but the kids are asked to leave when the dancing starts at nine pm.
---
Bleu Martini
24 S Second Street Philadelphia, PA 19106
215-940-7900
Visit Website
Bleu Martini has a contemporary design with dark-colored decor contrasting the moody blue lighting. This Old City hotspot has it all, a modern American-Asian fusion menu, cocktails, and over twenty varieties of hookah if that's your thing. Martinis are the specialty here. Try enjoying a few and hitting the dance floor.
---
Trilogy
601 Spring Garden Street Philadelphia, PA 19123
215-925-5000
Visit Website
Trilogy sits a block from the Edgar Allan Poe National Historic Site, providing an energetic space with more than enough room to party. The three-level nightclub features six DJs during the weekends, playing everything from Top 40 hits to Arabic music. The club also offers hookah at this versatile venue.
---
Vango Skybar and Lounge
116 S 18th Street Philadelphia, PA 19103
215-568-1020
Visit Website
Vango provides a rooftop option in the Center City West area on its top floor with skyline views. The three-level venue uses luxurious furnishings to create a modern ambiance with fun lighting elements to set the mood. The lounge serves a fusion-inspired menu and specialty drinks. Dancing and hookah are also features here.
---
Vesper
223 S Sydenham Street Philadelphia, PA 19123
267-214-0086
Visit Website
If you want the nightclub experience but hate staying up late, Vesper's party brunch provides a great option in the Rittenhouse Square region. Expect luxury accommodations at this venue in a renovated historic dining club. There's room for dining and dancing at this contemporary nightclub. Try out this spot for a high-energy, high-end experience.
---
Liberty Point
211 S Columbus Blvd Philadelphia, PA 19106
215-315-9023
Visit Website
As a part of Penn's Landing area on the Delaware River, Liberty Point offers another summertime venue for enjoying the weather, water, delicious food, and entertainment. A mix of DJs and live music plays at the Point among beautiful city backdrops in this outdoor bar. If you love seafood and plan on visiting Philly in the summer, I suggest this as a must-visit!
---
Leda and the Swan
1224 Chestnut Street Philadelphia, PA 19107
267-734-1771
Visit Website
Cocktails are the specialty of this Midtown lounge, where you can nibble on sushi while enjoying live music. For a flashy drink, try the Return to Olympus, served smoked, enhancing the rye cocktail while making an impression. The whimsical decor here mimics the sense of fun at this vibrant and stylish venue.
---
Cheers!
Part of getting to know a city involves checking out the nightlife, and Philly boasts a wide range of options! From dance venues with Latin beats serving Caribbean fare to edgy dives with relaxed vibes, Philadelphia nightclubs offer options for any taste.
Have you visited any of these hotspots in The City of Brotherly Love? Share your experience in the comments below.
27 Best Philly Nightclubs
NOTO
Trestle Inn
Reserve Lounge Philadelphia
Brasil's Nightclub
LMNO
Concourse Dance Bar
Saint Lazarus Bar
Silk City Diner
Stratus Rooftop Lounge
The 700 Club
The Barbary
Dolphin Tavern
Tierra Nightclub
U-Bahn
Reef Lounge
Time
Cuba Libre Restaurant and Lounge
Down Nightclub
Howl at the Moon Philadelphia
Infusions Lounge
Morgan's Pier
Bleu Martini
Trilogy
Vango
Vesper Sports Club
Liberty Point
Leda and the Swan