Known as the City of Brotherly Love, Philadelphia is a fantastic place to find romance if you know where to look. Most of the streets in the downtown core have plenty of bars and restaurants where singles can mingle and make a real connection. 
From beer joints to fancy cocktail bars, there's truly something for everyone in Philadelphia. So for a memorable night out with Philadelphia's eligible singles, check out my list of the best Philadelphia singles bars below!
---
1 Tippling Place
2006 Chestnut Street Philadelphia, PA 19103
215-665-0456
Just a few blocks from Rittenhouse Square, 1 Tippling Place is a creative and relaxed space with classy fusion cocktails, a great selection of spirits, and a friendly sophisticated vibe. You'll likely meet the cream of the crop and have in-depth, engaging conversations at 1 Tippling Place.
---
Frankford Hall Beer Garden
121o Frankford Ave, Philadelphia, PA 19125
215-634-3338
Frankford Hall Beer garden is a classic, giant beer garden close to the 95 Highway. They serve many different types of beer, have a huge outdoor garden with large tables and heat lamps, and dish up bar favorites like giant pretzels. It's a relaxed, fun place to meet your potential soulmate.
---
Bob and Barbara's
1509 South Street Philadelphia, PA 19146
215-545-4511
South Street's Bob and Barbara's is just three blocks from the Romanian Folk Art Museum and a true local Philly favorite. The Pabst Blue is always icy cold, the music is good, and it's a very economical option for those who want to mingle and have fun without emptying their bank accounts.
---
Johnny Brenda's
1201 Frankford Ave Philadelphia, PA 19125
215-739-9684
Two blocks from Highway 95, Johnny Brenda's has classic, delicious cocktails, plenty of imported and domestic beers, and a great menu. Try the shrimp and veggie skewers, orzo, and a menu of select desserts. It's a high-end singles bar and eatery right in the heart of Philly.
---
The Dolphin Tavern
1530 South Broad Street Philadelphia, PA 19147
215-278-7950
If you're looking for a club vibe, try The Dolphin Tavern. Just one block from the South Philadelphia Library, this dance club always has excellent music and reasonably-priced drinks. Of course, you'd have to try hard not to meet someone cool at The Dolphin Tavern.
---
SPIN
211 South 15th Street Philadelphia, PA 19102
267-463-4850
Near the Walnut and Locust Street Metro, SPIN has an accommodating staff, plenty of bar games, and good food. Plus, you'll find an excellent selection of drinks on tap. So plan to grab dinner at SPIN and then stay for a while to socialize.
---
BRU Craft & Wurst
1318 Chestnut Street Philadelphia, PA 19107
215-800-1079
For excellent German food and beer right around the corner from Philadelphia City Hall, it's got to be BRU Craft & Wurst. Additionally, you'll find a great selection of local singles hanging out there too. The food is authentic, served fast, and always accompanied by a nice stein of beer.
---
Ranstead Room
2013 Ranstead Street Philadelphia, PA 19103
215-563-3330
A few blocks from the Mutter Museum, Ranstead Room, has a vast cocktail selection and an excellent, knowledgeable waitstaff. The ambiance is very romantic, sophisticated, and geared toward intimate conversations and possible romantic connections. For a chic night out, try this spot.
---
McGillin's Olde Ale House
1310 Drury Street Philadelphia, PA 19107
215-735-5562
McGillin's Olde Ale House is just three blocks from Thomas Jefferson University and one of the hottest places in the city for excellent beer and an instant group of friends. It's a no-frills, authentic Philadelphia bar that gets a good mix of both locals and visitors.
---
Ashton's Cigar Bar
1522 Walnut Street, Philadelphia, PA 19102
267-350-0000
Around the corner from St. Mark's Church, Ashon's Cigar Bar has premium cigars and classic and fusion cocktails. Its handsome interior and excellent wine list make it one of the top places in the city to chill out with a drink and find some good conversation. Plus, it's centrally located.
---
Graffiti Bar
124 South 13th Street Philadelphia, PA 19107
215-732-3501
Graffiti Bar is just a short walk from the Millenium Art Gallery. It offers a pleasant, friendly Happy Hour with discounted drinks, appetizers, and a spectacular wine list. Plus, there's plenty of indoor and outdoor seating. With a casual but chic vibe, Graffiti Bar is a winner.
---
Stratus Rooftop Lounge
433 Chestnut Street, Philadelphia, PA 19106
215-925-2889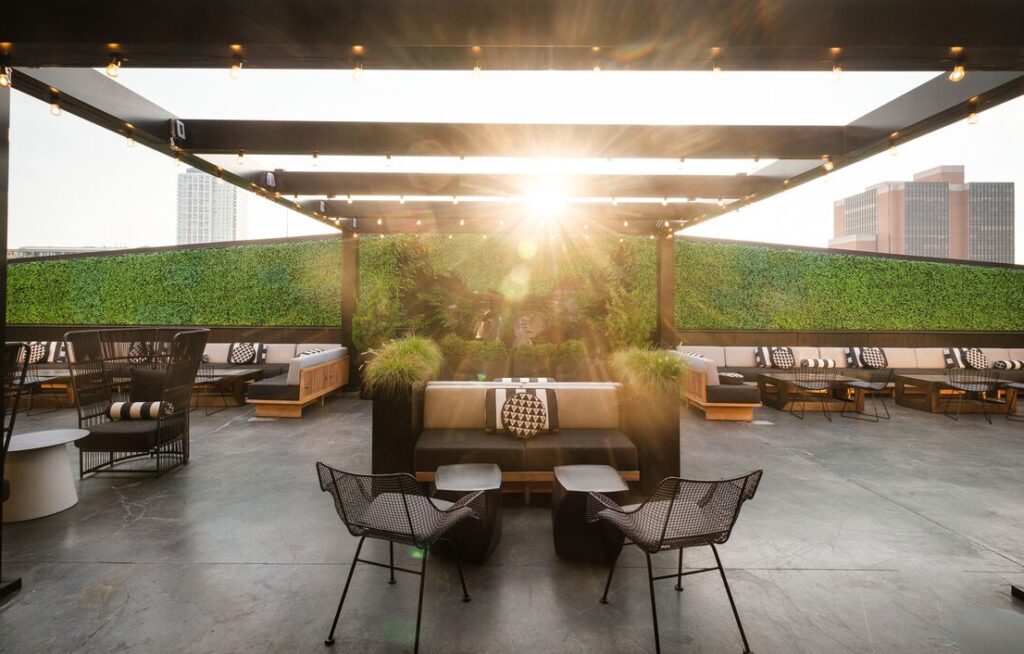 Next to the Liberty Bell, Stratus Rooftop Lounge offers one of the best views in the city. So if you're looking for a romantic place to enjoy your evening and meet someone great, this is an excellent bet with delicious cocktails, live music, and plenty of interesting people.
---
The 700
700 North Second Street Philadelphia, PA 19123
215-413-3181
Directly off the 95 Highway, The 700 is a dance club and bar with a massive menu of domestic and imported beers. It's unpretentious but consistently excellent, with delicious short-rib tacos and a great vibe. Don't be surprised if you stop in for one drink and stay for hours.
---
Silk City
435 Spring Garden Street, Philadelphia, PA 19123
215-592-8838
Two blocks from the Edgar Allan Poe Historical building, Silk City has an eclectic drink and food menu, with fun spins on Philly favorites like cheesesteak egg rolls. You'll have difficulty finding a better spot in downtown Philadelphia if you're in the mood for cocktails, nibbles, and good conversation.
---
The Trestle Inn
339 North 11th Street Philadelphia, PA 19107
267-239-0290
The Trestle Inn is next to Vox Populi Art Gallery, offering a phenomenal menu of whiskeys, excellent fusion cocktails, and a throwback, classy atmosphere that will make you feel like you've stepped straight into the 40s. The Trestle Inn is a solid choice for an elegant and unique night out.
---
Time
1315 Sansom Street, Philadelphia, PA 19107
215-985-4800
Time is right in the center of Midtown Village, a classy and unique bar with incredible food, great custom cocktails, and a charming atmosphere. Expect live music and beautiful people, along with obscure whiskeys and small bites. Dress to impress when you go to Time; it's definitely that kind of place.
---
a. Bar
1737 Walnut Street Philadelphia, PA 19103
215-825-7035
a.Bar is next to Rittenhouse Square, and it's the place to go for custom, delicious drinks in Philadelphia. The bartenders know their stuff and can give you recommendations on different spirits. Plus, the food is good, and the selection of eligible singles is undoubtedly a significant draw.
---
Final Thoughts
If you're single and looking to meet like-minded people for conversation or romance, head to downtown Philadelphia. The city has got you covered, from corner bars oozing with history to downtown icons with fusion drinks and fabulous food.
Did we mention your favorite Philadelphia singles bars? Let us know in the comments below.
The Best Bars for Singles in Philadelphia
1 Tippling Place
Frankford Hall Beer Garden
Bob & Barbara's
Johnny Brenda's
Krupa's Tavern
The Dolphin
SPiN
BRu
Ranstead Room
McGillin's Olde Ale House
Aston's Cigar Bar
Graffiti Bar
Stratus Rooftop Lounge
The 700
Silk City
The Trestle Inn
Time
a.bar